One universal axiom stands true in Montgomery County politics:
No Republican will be elected at-large to the County Council, and Republicans do not stand a chance in Council Districts 1, 3, 4 and 5 – so much so that Montgomery County's Republican Party, to date, has failed to recruit even one viable candidate to run in the latter-mentioned three Council districts.
Implausible but not entirely impossible, District 2 is somewhat more favorable to Republicans than the other four council districts – if, and only if, a viable Republican candidate emerges. That would Republican would need to raise enough money and amass significant support to take on popular incumbent Democrat Craig Rice (D-Germantown).
If there ever was a year for a Republican to be elected to the Montgomery County Council, it surely isn't 2018.
In the last ten to twelve years, Montgomery County Republicans recruit unviable, rightwing conservative candidates, intrinsically out of touch with vast portions of Montgomery County's Democratic stronghold. Even more, Republican candidates in Montgomery County will most certainly be inextricably linked to President Donald J. Trump's growing unpopularity.
Nonetheless, three Republican candidates have so far emerged in the District 3 primary: Former public school teacher Edward "Ed" Amatetti, management consultant Thomas "Tom" Ferleman and business owner Kyle Sefcik.
Amatetti, who lives in North Potomac, reported raising nearly $39,000, according to his latest campaign finance numbers, drawing close to $13,400 in individual contributions.
Amatetti ran in 2014 for an at-large seat on the Montgomery County Board of Education but was defeated in the primary.
Amatetti is viewed (even among many Democrats) as a sensible moderate/libertarian-leaning Republican with an affable demeanor and a serious policy platform. His top policy issues include reforming Montgomery County's education system, raising upper Montgomery County's profile and ending the cycle of "uncontrolled spending."
Since launching his campaign at the Gaithersburg Library in Feb. 2017, Amatetti has been steadily knocking doors, hosting meet-and-greets and assembling a robust volunteer base. Core Montgomery County Republicans have told A Miner Detail that they view Amatetti as the District 2 Republican frontrunner.
Amatetti's chief Republican opponent appears to be Dr. Thomas Ferleman of Germantown.
Ferleman opted not to use Montgomery County's public financing system and reported – four days late – a little over $6500 raised, including two $2000 contributions – from himself and from his wife, Rebecca, who is serving as his campaign treasurer. The state Board of Elections imposes a $10 late fee per day for failing to file campaign finance reports on time.
Much of Ferleman's campaign, so far, has been demonizing members of the County Council by way of his Twitter account and posting incendiary comments to his campaign Facebook page. Unlike Amatetti, Ferleman has not invested time in growing his volunteer base, nor is he viewed favorably by the local Republican Party.
Early on when Ferleman first began his County Council campaign, he considered using underhanded tactics to defeat Amatetti, whom he views as his principal opposition.
Last month, Ferleman posted a Newsweek article to his public Facebook page that called on the United States Department of Justice to "arrest the Montgomery County Council for fostering a sanctuary city."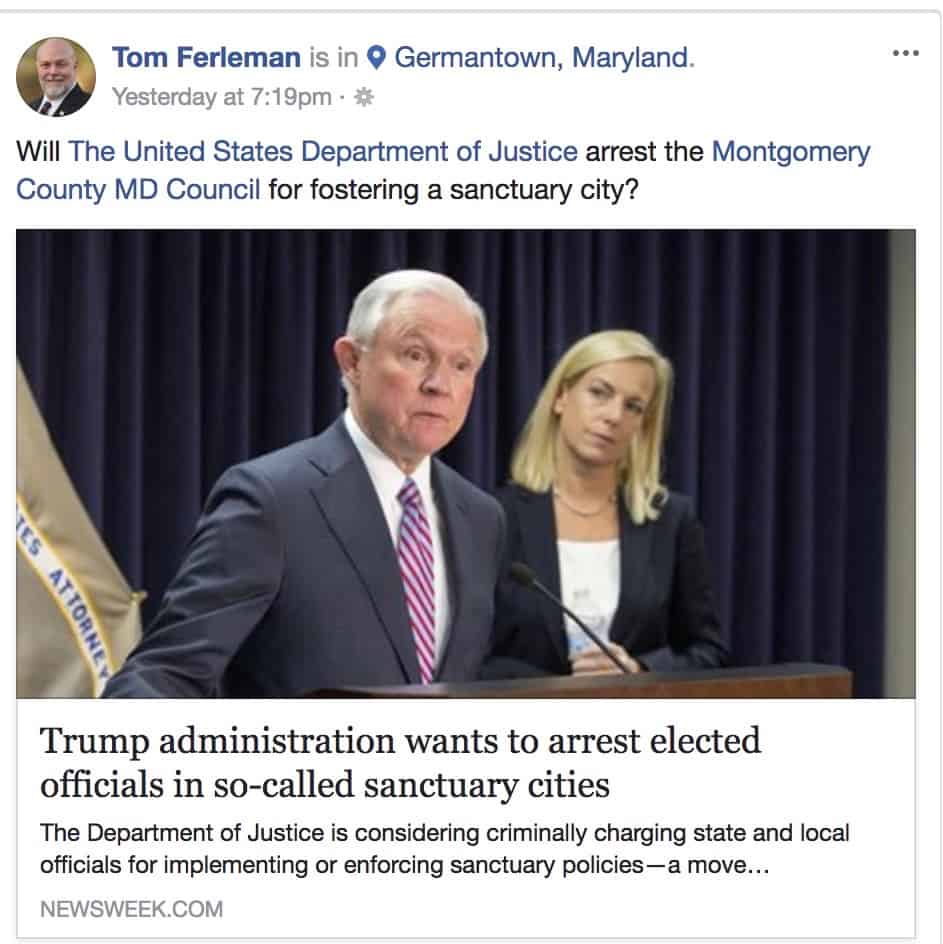 Ferleman entangled himself last summer in another social media snafu in which he deliberately deleted comments (see below) from his public Facebook page. The comments came from posters who innocuously questioned his positions on specific policy issues.


Ferleman subsequently retaliated against the Facebook posters after deleting their comments, referring to them as "winning snowflakes," "lefty liberals," and "little boys."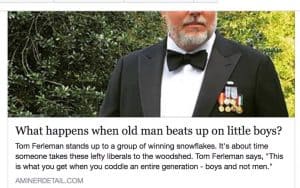 Another Republican, Kyle Sefcik, filed his candidacy paperwork on Jan. 31 and announced on his personal Facebook page his entrance into the race.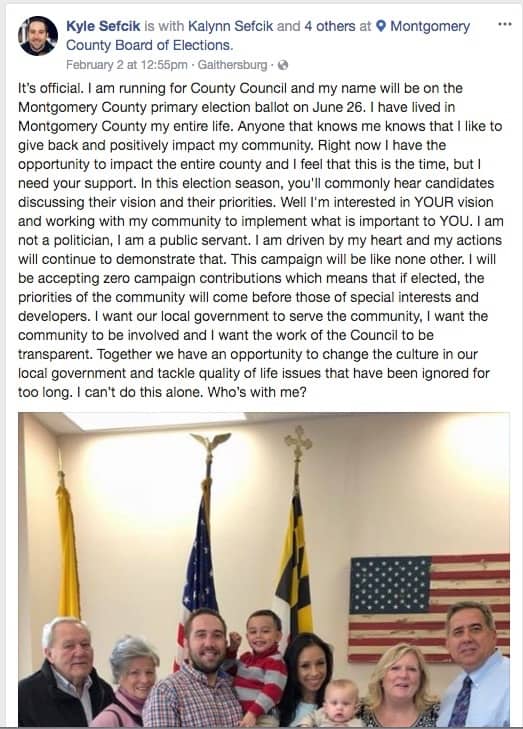 Sefcik, who lives in Damascus, is a first-time candidate and is relatively unknown amid Montgomery County's Republican establishment.
On the Democratic side, incumbent Craig Rice ended speculation last June that he would run for county executive and announced he would seek re-election in District 2. Rice has not officially filed for re-election with the Montgomery County Board of Elections as of Friday, Feb. 2.
There has been some speculation inside Maryland Democratic circles that Rice could be picked up by one of the Democratic gubernatorial candidates as a lieutenant governor. Prior to his 2010 election to the Montgomery County Council, Rice served one term in the Maryland House of Delegates from 2006 to 2010.
One other Democrat, Tiquia J. Bennett, has filed to run in District 2. Democratic activist Tony Puca previously filed for District 2 but withdrew from the race in December to run for state delegate in District 15.
The last day to file for public office in Maryland is Feb. 27 at 9:00 p.m.
Ryan Miner is the Editor in Chief, Founder, Senior Political Reporter and Publisher of A Miner Detail. He is the host of A Miner Detail Podcast.