A campaign flyer that reached thousands of Republican mailboxes in Western Maryland is now being questioned for containing false claims about a candidate's record.
Republican state delegate candidate Nicole Alt-Myers, a former Cumberland city councilwoman, is expending significant financial resources on a campaign mailer that was mailed to thousands of District 1C Republican voters, touting her record of accomplishment and listing a number of clubs and organizations for which she is a member.
But there is a big problem, says several Allegany County residents: Alt-Myers' campaign mailer isn't true.
In other words, some voters believe that Alt-Myers is lying about her record.
Alt-Myers' campaign mailer states that "As a Cumberland City Councilwoman, Nicole led the charge to win funding for the city's first Safe Streets Program Grant."
Cumberland's Safe Streets Initiative was enacted on July 17, 2012, by an order at the behest of Cumberland's mayor and City Council, authorizing Cumberland's chief of police to accept a "GOCCP Grant for FY13 entitled "Safe Streets" in the amount one One Hundred Eighty Thousand Dollars and NO Centers ($180,000.00) for the period of 07/01/2012 to 06/30/2013…"
However, at the time, Alt-Myers was not a candidate for the Cumberland City Council and was not involved in securing funding for the Safe Streets initiative.
An Allegany County official told A Miner Detail on background that Alt-Myers had nothing to do with "leading the charge to win funding for Cumberland's first Safe Streets program," as stated in her campaign mailer.
"She wasn't even a candidate then; she had nothing to do with the Safe Streets program. Nicole is stating something that she did not do," the county official went on to tell A Miner Detail.
Cumberland's Safe Streets program coordinator, David Goad, agrees.
"Nicole Alt-Myers was not a candidate at the time and did not help Cumberland's Mayor and City Council secure funding for the Safe Streets program," Goad told A Miner Detail.
Goad, a Democrat, was Allegany County's elected sheriff from December 1994 to December 2, 2010.
"The program began in July, and I don't recall Mrs. Alt-Myers having anything to do with it prior to the date it was enacted," Goad told A Miner Detail. "I don't know if she is intentionally trying to mislead voters; that is for the voters to decide. But I can tell you that she had nothing to do with securing initial funding for the program."
Alt-Myers was elected to the Cumberland City Council in November 2012 and served a single term, until Jan. 2017, according to her LinkedIn page.
The Maryland Safe Streets Initiative (Safe Streets) is an offender-based model established to institute collaboration and information sharing across all levels of government to dramatically reduce crime. The initiative, according to City of Cumberland website, is "designed to create a format where all public agencies can work together to reduce crime and improve the quality of our neighborhoods."
The Governor's Office of Crime Control and Prevention provides grant funding – contingent on budget constraints and approvals – to Safe Street sites to cover the costs of various positions. The program has been funded since 2012 with grants totaling more than $1.3 million.
The City's website says that the Safe Streets process includes the aggressive tracking of the disproportionate amount of crime committed by repeat offenders, by utilizing a multi-agency collaboration with federal, state, and local law enforcement agencies, public safety agencies and community partners. The Safe Streets objective is to reduce crime and criminal activity within the city and surrounding areas – since we know that criminality has no boundaries.
Alt-Myers is facing off against Republican incumbent state Del. Mike McKay and Hancock attorney Jordan Lysczek in the June 26th primary.
A Miner Detail emailed Alt-Myers yesterday with questions about the accuracy of her campaign mailer. Alt-Myers has not responded to A Miner Detail's request for comment.
A Miner Detail shares an email sent yesterday to Alt-Myers:
Mrs. Alt-Myers, 

Multiple Cumberland residents are questioning the validity of statement printed on your campaign mailer that states "Nicole led the charge to win funding for the city's first Safe Street's program." 

I had the opportunity to speak with David Goad, who went on the record with me yesterday and said that the statement on your campaign mailer, in which you claim to have led the charge to win funding for the city's first 'Safe Street program', is inaccurate. Mr. Goad explained that you were not sworn in as a city councilwoman until January 2013. The program, however, began in 2012, when you were not an elected councilwoman. 

Is your campaign mailer accurate? Could you please explain how you "led the charge to win funding for the city's first Safe Street program?" Did you help secure funding and additional grants for the program after you were sworn in as a councilwoman in subsequent years? 

Did you intentionally mislead Republican voters by sending a mailer with inaccurate information? 

I will publish your full, unabridged statement on AMinerDetail.com. My deadline is tonight by 11:00 p.m. 

Thank you, 

Ryan Miner
Editor-in-Chief
AMinerDetail.com
A Miner Detail shares a copy of Alt-Myers' campaign mailer in question.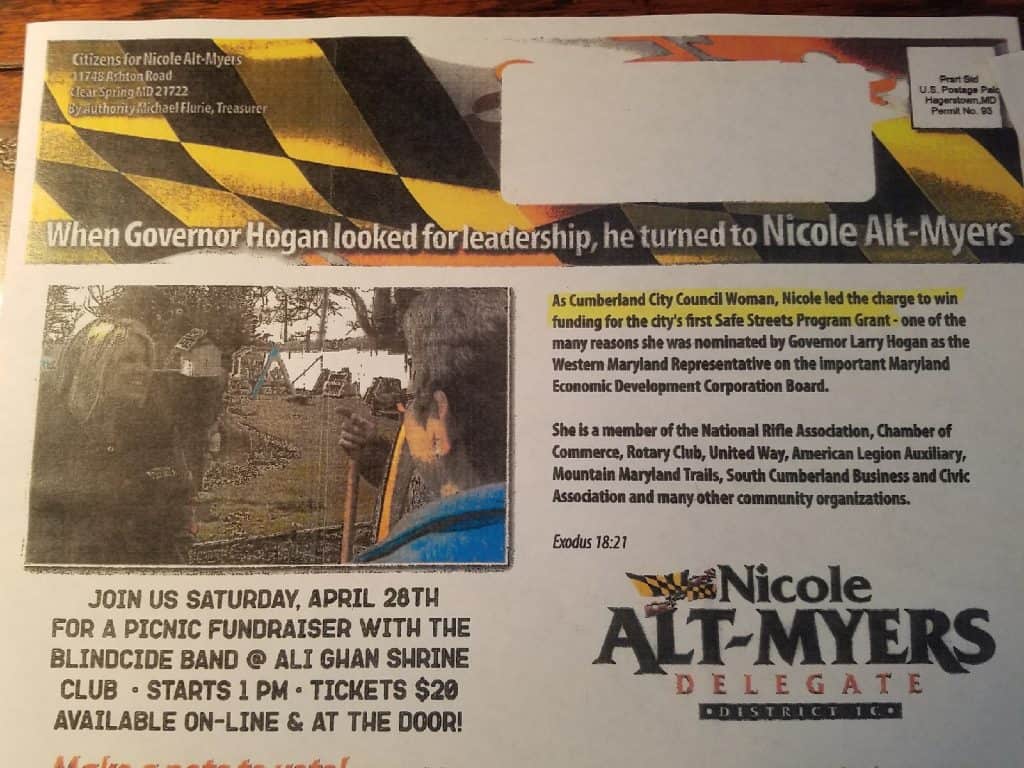 Ryan Miner is the Editor in Chief, Founder, Senior Political Reporter and Publisher of A Miner Detail. He is the host of A Miner Detail Podcast.