By Ryan Miner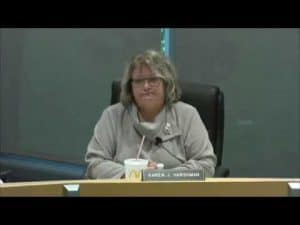 Soon after the Maryland State Board of Education rendered its opinion today that effectuates Karen Harshman's removal as a Board of Education member from the Washington County Board of Education, I ruminated and debated with myself over the tenor of an article I would inevitably write this evening.
Just for a moment, and, still, now, I feel a deep sense of relief that our state board of education reviewed the facts before them and subsequently released a detailed 20-page opinion upholding said facts.
I considered writing a snark-laden article that throws the state's decision in Harshman's face; I think I would be entirely justified in doing so, but I just can't do it. I won't. It wouldn't be right, and I would feel just as grimy as most of us felt today when Harshman's folksy misfit of an attorney, Ira Cooke, used the ol' Chewbacca defense during his passionate defense of his client.
As former First Lady Michelle Obama famously bellowed during her unforgettably poignant 2016 Democratic National Convention speech, "when someone is cruel and acts like a bully, you don't stoop to their level. No, our model is, 'when they go low, we go high.'" Mrs. Obama's words have never been more salient and applicable to me than today.
Mrs. Harshman chose a noble profession in teaching. She taught in our public schools – the same public schools I was blessed to be educated in from K-12 – for thirty years or so.
I'm certain that Mrs. Harshman's decency was, over the years, tangibly felt by many of the students she taught. I am confident that she changed the lives of many of her students. I have no doubt that she did a world of good in some way or another. After all, I have experienced Mrs. Harshman's warmth on a few brief occasions, including a very memorable and happy lunch we had in the spring of 2014.
At some point in Mrs. Harshman's life, she decided to go low. I don't know what changed? But now, an immutable darkness seemingly has enveloped her core. Whatever aching sadness is permeating her soul, she projects her darkness onto others surrounding her.
Later in Mrs. Harshman's teaching career, she made the lives of many of her students abjectly miserable. She held grudges against former school principals and colleagues. And when placed into a position of trust and leadership by the voters of Washington County as an elected education leader, she failed to use her teaching career to better the lives of students, teachers and the school system as a whole. She was motivated by political vendettas, eager to settle old scores and show anyone who wronged her that she couldn't be touched.
Hashman's tipping point came last fall when she maliciously took to Facebook, at 70 years-old, to gossip and malign one of her board colleagues who, in her mind, was a political enemy – simply because she disagreed with her education philosophy.
Mrs. Harshman went to the extent of classifying her own board colleague, a happily married woman of 47-years, a "sexual predator." Karen Harshman doubled down on her vindictive crusade: She refused to apologize or, at the very least, acknowledge that her words were profoundly consequential – for herself, for the position she held and for the entire Washington County Public School system.
For the last several months, Karen Harshman maintained that she did no wrong; she blamed everybody else except herself. She took no responsibility for her actions. She showed no contrition. She made no effort to right her wrongs. She plugged her ears and stomped her feet, living in an alternative reality, spouting off alternative facts.
For Karen Harshman, today, April 25, 2017, marked the confluence of a series of unfortunate events, entirely avoidable and categorically self-inflicted. A career of 30 years as a public school teacher followed by a 6 1/2 year stint on the Board of Education – ruined. A career irrecoverably damaged beyond repair.
The moment I begin to feel sorry for Karen Harshman, I quickly remember that Karen Harshman is a bully. She's mean. She's spiteful. She's borderline hateful. I know this because I've experienced her wrath, and I've been subjected to her hatred. But she never weakened my resolve because I never allowed her to win.
Bullies, especially Karen Harshman, are eventually defeated when you fight back. But you have to overcome your fears and muster up the gumption to actually fight back – and fight back hard. Jackie Fischer fought back. Justin Hartings fought back. Donna Brightman fought back. Clayton Wilcox fought back. Wayne Ridenour fought back. Washington County Public Schools fought back. Students, teachers, and parents of Washington County fought back. The Maryland State Board of Education fought back. I fought back.
We achieved a victory today because we were relentless in fighting back against a bully who refused to stop kicking and screaming. Today, Karen Harshman didn't get her way.
I don't know what is in store for Karen Harshman. I presume she'll need to soon vacate her seat on the board, hand over her identification badge, and her board email address will be unceremoniously deactivated. Then the process kicks in to replace her. When all of this is said and done, and six months from know when this story is only an afterthought, I hope Karen Harshman, for her sake, finds the peace that I know she desperately wants, and, maybe, even deserves.
Ryan Miner is the Editor in Chief, Founder, Senior Political Reporter and Publisher of A Miner Detail. He is the host of A Miner Detail Podcast.